Don't Fall For Secrets, Fads, Or Gimmicks.
Learn how to honestly evaluate your health habits and change the ones that need improvement!
Motivate Yourself for Better Health shows you how to take the drudgery out of healthy living!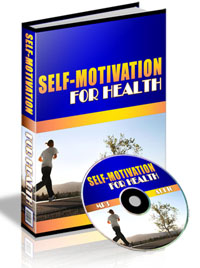 You'll be amazed at the nearly instant results you'll see just by making a few simple lifestyle changes!
You don't need a "program" touted by paid endorsements and there is no magic pill. This guide will show you how to motivate yourself to "get real and get healthy."
But remember – you're not following a rigid program …you're developing your own!
"Motivate yourself for Better health will teach you how to discover what truly motivates you and then use it to become a healthier and happier you!"
Better health isn't about a smaller dress size or how many push-ups you can do. Your health is an all-inclusive system that needs to include your emotional health as well as your physical health!
You may or may not need to lose weight. You could be the ideal size and weight and still be engaging in unhealthy behaviors and habits. If you do need to lose weight, realize that that is only one part of the healthy equation, although it's a great place to start.
Most of us know what we need to do; we just don't do it for one reason or another. There's very little new information we need to know in order to get on the pathway to better health and most answers to health questions are readily available either online or off. So if you know what to do, yet are not doing it, you simply need to GET MOTIVATED!
What's Your Excuse?
Maybe you're so busy with work that you just don't have the time to concentrate on healthier living. Just think of all the time you'll have if you get sick and can't work!
Maybe you're so busy with the kids that you don't have a moment to yourself. Do your children a favor by incorporating healthier living into your daily routine. We'll show you how!
Maybe you realize you need to make some healthier changes in your life but you're just not motivated. Look no further! We're going to show you how you can motivate yourself starting NOW!
Getting healthier means different things to different people. Maybe you just need to be more active, yet you hate the thought of exercising. If this describes you, you'll be relieved to discover all the ways you can bring more activity into your life without joining a gym or doing crunches or push-ups at home.
Perhaps you're feeling "run down" because you work long hours and never seem to get enough sleep. You might be surprised to discover how this one behavior can affect your overall health.
Be your own best friend! Learn to take control and take care of yourself!
Just Look At The Benefits Of Getting Healthy…
Look and feel better almost immediately! This one benefit alone is going to have a tremendous impact on every aspect of your life!
Your self-esteem will skyrocket! There's no better builder of self-esteem than the realization of a goal you've worked hard to achieve!
Live a longer, happier, more productive life! Your kids, grandkids, and other loved ones want you to be around as long as possible!
Save money! It's much cheaper to be healthy than it is to be unhealthy.
Enjoy the activities you've always enjoyed doing without having to give them up just because you've let yourself go.
Motivate Yourself for Better Health provides you with everything you need to get started with self-motivation immediately! No programs or potions to buy; just eye-opening inspiration you can use NOW!
Motivate Yourself for Better Health doesn't just focus on weight loss, which may or may not be a part of your better health plan; however, this must-have manual is a comprehensive guide that will help you to examine every area of your health.
Motivate Yourself for Better Health includes links to fun online quizzes that will help you to assess the current state of your health. Discover what your "real age" is.
Motivate Yourself To Better Health reveals…
How to handle it when the people around you aren't healthy and don't support your efforts to get healthier.
Self-destructive behaviors you may be engaging in without even realizing it! It's not limited to intentional behavior!
Surefire methods to use to discover what it is that motivates you!
Amazing tips to avoid winding up right back where you started. Motivate Yourself To Better Health has all the answers you need to make permanent – and healthy lifestyle changes!
Why you really should check with your doctor before starting any diet or exercise program. It's not just a legal disclaimer!
The topics listed above should give you a good idea of what to expect from Motivate Yourself for Better Health but don't think for a split-second that's all it offers.
This ebook is overflowing with awesome information and great tips!
You'll learn to dig deep and you'll learn how convenience foods and entertainment choices have impacted your life. Motivate Yourself To Better Health details proven ways to be healthier while making your own rules instead of following someone else's.
Motivate Yourself To Better Health provides you with everything you need to get started on the road to a healthier and happier you immediately. Don't wait until you can afford workout clothes or fancy diet food. Get real and get healthy NOW!
It's time to take a close look at your specific health issues!
FREE BONUS OFFER
LIMITED EDITION and LIMITED RELEASE
Timing IS Everything and Your Timing IS PERFECT!
For a limited time, all buyers of
Motivate Yourself for Better Health will receive a special
ABSOLUTELY FREE GIFT BONUS!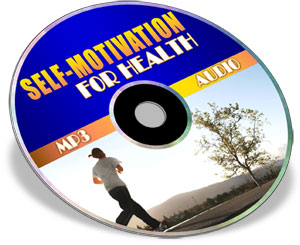 Audio Version of Motivate Yourself for Better Health.
Listen to the Audio version anywhere you can listen to MP3's!
For example, while you are in your car, walking the dog or even when working in your Garden.
"Discover the Motivate Yourself for Better Health PLUS Food Portions for Life Audio version in Downloadable MP3 Format!"
YES! I want to know everything I can about Motivate Yourself for Better Health along with the extra special bonus gift of Motivate Yourself Audio Version too
I understand I can claim my free gift Audio Program and eBook along with purchasing the step-by-step resource – Motivate Yourself for Better Health if I act right now.