"Want To Improve The Relationship You Have With Your Pet?
Discover All the Information You Need to Care for Your Cat Better than Ever!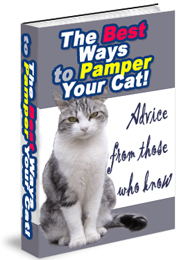 Introducing the ebook: "The Best Ways To Pamper Your Cat" – the Way THEY want it!! (Insights from the fury, purry ones who know)
The Best Ways To Pamper Your Cat is the perfect ebook to teach you the best and most effective ways to pamper and treat your cat in the best possible ways.
If you have always wanted to know how to correctly pamper and love your cat in the way they love to be loved, then you will find the best tips and expert advice for achieving this inside of this ebook!
After you have read and applied the advice in this ebook, you will know exactly how to treat your cat in a truly special way!
For many people, being a cat owner is a particularly emotional experience and not knowing how to treat your cat correctly, can leave you and your cat feeling unrewarded.
This book is written especially to give you the practical advice you'll need to create a loving relationship with your cat.
Here's What You'll Find Inside this Ebook "The Best Ways To Pamper Your Cat"
Introduction
General Cat Pampering Principles
Ways To Make Your Cat Feel Special
Ways To Make Sure Your Cat Feels Great
Creating A Wonderful Disposition In Your Cat
Keeping Your Cat Happy
Caring For Your Pampered Cat
Entertaining Your Cat
Meeting In The Middle
Fine Dining
Fine China For Cats
A Home cooked Meal For Kitty
Special Treats And Rewards
Grooming Considerations
Hair Care For Feline Friends
Nail Care For Your Pampered Pet
Comfort Issues
Making Sure Your Cat Sleeps Well
Keeping A Kitty Warm
Special Extras
Choosing The Right Toys For Your Cat
Cat Travel
Cats And Grass
Pampering Your Cat With A Massage
Potty Training And Cats
If You Should Go
Isn't it reassuring to learn that this instant download digital ebook includes everything you must-know, everything you must-have and a step-by-step guide to putting it all together quickly and cheaply?
The Best Ways To Pamper Your Cat will guide you every step of the way with detailed instructions for everything from a cat's emotional needs to grooming, feeding, playing and more!
Can you see the value of knowing both how to pamper your cat and create a loving relationship between yourself and your cat that will last for many years?
If you want to learn the best ways to pamper your cat and more, then this INSTANT DOWNLOAD digital ebook is a must have for your library.
Don't let you and your family experience one more day without knowing the most effective ways of relating to, benefiting from and enjoying your cat's company.
Don't you feel you and your family deserve a better quality relationship with your cat with quality time together week after week, month after month, year after year?
How important is it for you to be able to care for your cat in the most effective and loving way?
Are you looking forward to a HAPPY AND CONTENTED RELATIONSHIP WITH YOUR CAT?
YES! I want to know everything I can about The Best Way To Pamper Your Cat! along with the extra special bonus gift of 101 Tips For Gorgeous Roses too
I understand I can claim my free gift eBook and eBook along with purchasing the step-by-step resource – The Best Way To Pamper Your Cat! if I act right now.