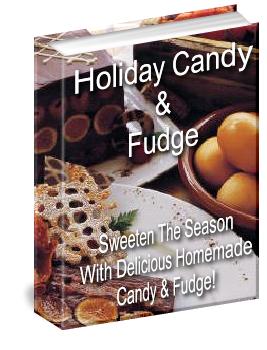 One Of The Best Things About The Holiday Season Is The Homemade Candy And Fudge!"
No Other Time Of The Year Is There As Many
Homemade Confectionery Delights To Sample As During Christmas.
Sweeten You Holiday Gatherings With Some Of The Most Delicious And Easy To Make Candies And Rich Decedent Fudge You Have Ever Tasted!
Here's Just A Sample Of The Mouth Watering Recipes You'll Find Inside this Ebook "Holiday Candy & Fudge"
Pecan Pralines
Raspberry Divinity
Chocolate Turtles
Coconut Bon Bons
Martha Washington Candy
Old Fashion Peanut Brittle
Almond Bark Candy
Coconut Joys
Caramel Snappers
Maple Nut Candy
Fudge Meltaways
Easy Christmas Divinity
Potato Candy
Peppermint Patties
Layered Mint Fudge
Holiday Fudge
Peanut Butter Fudge
Marshmallow Fudge
Rocky Road Fudge
White Fudge
White Chocolate Fudge
Sour Cream Fudge
Eat Your Heart Out Fudge
Marble Fudge
Double Decker Fudge
Foolproof Dark Chocolate Fudge
Old – Fashioned Fudge
Best Ever Fudge
Snowy White Fudge
Chocolate Mint Fudge
Old – Time Fudge
Penache
Ribbon Fantasy Fudge
Maple Nut Fudge
Buttermilk Fudge
Butterscotch Fudge
Chocolate Velvet Fudge
Million Dollar Fudge
5 Minute Fudge
Triple Chocolate Fudge
FREE BONUS OFFER
"All Time Favourite Christmas Cookies" and it sells on this site too, under the 'Christmas Celebrations' category for $9.
Treat Your Family To Some New "All-Time Favorite Cookies" This Holiday Season!
Just Imagine The Delight On Your Families Faces When You Serve Them A Big Plate Of These Delicious Homemade Christmas Cookies…
We would love to give you this limited opportunity to receive the digital ebook "All Time Favourite Christmas Cookies" for FREE – it's our gift to you.
"Discover the Secrets of All Time Favourite Christmas Cookies PLUS Discover the Holiday Candy & Fudge too!
Are you looking forward to making your own DELICIOUS, NUTRITIOUS HOMEMADE CANDY AND FUDGE that will continue to provide you, your family and friends with great tasty snacks year after year?
YES! I want to know everything I can about Holiday Candy & Fudge along with the extra special bonus gift of All Time Favorite Christmas Cookies too
I understand I can claim my free gift eBook and eBook along with purchasing the step-by-step resource – Holiday Candy & Fudge if I act right now.