Your Pet May Have A Weight Problem You Don't Know About That Could Reduce It's Life AND Yours By Years!"
Discover The Hidden Dangers To Your Pet's Health And How You Can Eliminate Them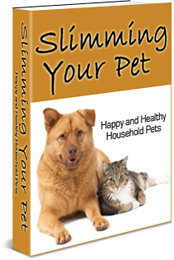 Introducing: "Slimming Your Pet" How to Have Happy and Healthy Household Pets.
Slimming Your Pet – Happy and Healthy Household Pets is the perfect instructional ebook to teach you the best ways to take care of your pet and to determine if your pet indeed has a weight problem that may not be obvious.
There are extreme dangers in having your pet remain technically overweight, even if it appears as though they are quite healthy.
You need to know how to tell if they are overweight and once you have determined that, to know exactly what to do about it and how to apply what you know.
If you don't know the signs to watch for, then how will you know if your pet is miserable and in a very real danger of dying years before they should? If your special friend is one of the 45% of pets that are overweight, then this may be the most important letter you ever read…
Is your pet at a healthy weight? Would you be willing to take a short quiz to find out?
Take a good look at your pet.
Q1:    Does your pet have a broad, flat back?
Q2:    Does it's stomach sag a little bit? Can you maybe even grab a little handful of fat?
Q3:    Is it at all difficult to feel ribs under its fatty layer?
Q4:    Are you unable to figure out where its waist is?
If you answered 'yes' to any of the questions above, then it is likely that your pet has a weight problem.
Unfortunately, even just a few extra pounds can create a pet owner's nightmare of painful and costly health problems such as:
Diabetes
Heart Disease
High blood pressure
and even cancer…
You want what's best for your softy, cuddly, friend… a long happy life full of fun times together. But it's not easy to keep them at a healthy weight when they whine like they are starving (near death's door) all the time… And who can resist tossing them a table scrap or two?
Slimming your pet down is going to be tough, right? WRONG. With the right strategy shrinking your pet down to a healthy size can be a piece of cake. And you still give the occasional treat.
Slimming Your Pet Down Can Be As Easy As 1, 2, 3
No guess work is needed. No trial and error experiments to try. With a little expert guidance, getting your pet down to a healthy weight will be like clock work.
"Slimming Your Pet – Happy and Healthy Household Pets" shows you exactly how to zap your pet's fat away, step-by-easy step.
Here's Just A Sample Of The Pet Health Tips You'll Find Inside this Digital Ebook "Slimming Your Pet – Happy and Healthy Household Pets"
Step 1: How to choose a vet you can trust. (Page 6)
Diseases to check for that might be causing your pet to gain weight. (Page 7)
The truth about treats. Discover which are healthy and which make your pet fat. (Page 8)
Find out how many calories your pet needs everyday. (Page 9)
How to shrink your pet down to a healthy weight the safe and easy way. (Page 10)
Discover how often you should give treats to your pet. (Page 11)
Unravel the different diet needs of neutered or spayed pets. (Page 12)
Revealed! The best foods you can feed your pet. (Page 13)
Unsafe pet foods unveiled. (Page 14)
Myth exposed. People food- good or bad for your pet? (Page 15)
Won't eat new pet food? The secret to switching foods without your pet noticing. (Page 16)
Pet diet products: Find out which one's actually work. (Page 19)
Secrets to the perfect meal size. (Page 20)
The dirty truth behind flavored gravies and sauces. (Page 21)
Discover if your pet's breed is known for weight and other problems. (Page 23)
How fast your pet should lose weight. (Page 24)
A guide to pet vitamins. (Page 25)
Unwrap the perfect diet for your pet's age and lifestyle. (Page 26)
How to get your pet to enjoy exercise. (Page 31)
Great ideas and locations for exercise. (Page 32)
Healthy exercises for dogs, cats and other small animals. (Pages 39- 40)
Helpful resources and special clinics. (Page 41)
The tips listed above should give you a good idea of what to expect from Slimming Your Pet – Happy and Healthy Household Pets and because you're reading this, I know that you love your pet. That is why you'll be delighted once you start your pet on this weight loss plan…
Not only will your pet live longer, but the years will be more enjoyable for both of you.
You can feel good that you're giving your pet a longer, healthier life.
That's more time to snuggle, hug and bond with you're furry critter.
And think of all the money and pain you'll save from not having to frequent the vet later because your pet has a miserable disease.
It's Easy To Add Years To Your Pet's Life…
No need to play the guessing game when it comes to your pet slimming down. Now you can shrink your pet down to healthy size without even having to think about it. Just follow the simple instructions in "Slimming Your Pet – Happy and Healthy Household Pets " and POOF! Your pet's fat will melt away before your eyes.
You can stop scratching your head, wondering what to feed your little critter and how much, the answers are just one minute away.
We know you want what's best for your pet. But sometimes life is so busy it's hard to keep track of harmful pet foods, fattening treats, proper meal sizes and so on. Make it easy on yourself.
A quick walk through everything you need to know to keep your pet healthy and happy.
Saves you time and vet consultation bills.
Takes the guess work out of your pet's nutritional and dietary needs.
A great reference for all of your pet's needs.
Isn't it reassuring to learn that this instant download digital ebook offers the best and most practical solutions to prevent debilitating diseases and illnesses in your pet as advised by the best veterinarians and that these pet health solutions, tips and strategies can be yours to use forever, quickly and cheaply?
Slimming Your Pet – Happy and Healthy Household Pets provides you with peace of mind knowing your pet will remain in tip top shape and never have to endure many of the cruel physical untreated conditions that so many pet owners are unaware of and provide you and your pet with many more years of love, comfort and enjoyment of one another's company!
Can you see the value of knowing how to quickly determine and put in place a weight loss program that will add years to your pet's life?
FREE BONUS OFFER
Hey, we're including a special bonus that's only available with this purchase. It's called "Your Dog's Health Matters" and will give you excellent advice on how to care for your dogs' health and well being, saving you a fortune on veterinary costs.
We would love to give you this limited opportunity to receive the digital ebook "Your Dog's Health Matters" for FREE – it's our gift to you.
"Discover the Slimming Your Pet PLUS
Discover the Secrets of Maintaining Your Dog's Health too!"
Don't you feel your pet deserves to be able to live a long and illness free life and shed any excess weight that they may be carrying around? This will give them renewed energy to play with you and a chance for them to heal any adverse conditions they might be experiencing already.
How important is it for you to be able to know how to monitor your pet's weight gain and then put them on the specific weight loss program that is appropriate for their species and type and to see the incredible life changing results of that program give you and your pet those extra years of enjoyment together?
Are you looking forward to being able to DIAGNOSE, TREAT and MONITOR your pet's weight and health in general and to feel you can confidently treat your pet to keep them in robust health month after month, year after year?
YES! I want to know everything I can about Slimming Your Pet along with the extra special bonus gift of Your Dog's Health Matters too
I understand I can claim my free gift eBook and eBook along with purchasing the step-by-step resource – Slimming Your Pet if I act right now.