Healthy and Natural Weight Loss Tips!
Here's a Quick Way To Follow a Common Sense Guide to Loose Weight.
Discover A Common Sense Way of Losing Weight and Getting Healthy!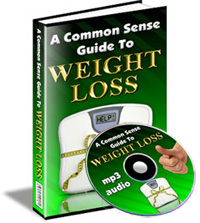 If you have decided to set a goal for losing weight naturally, then it will be great news to find out that you don't need to follow any complicated diets, or eating strange foods, or even denying  yourself from eating good healthy food. All you need to do is to use a little common sense and a this guide of weight loss tips!
There is Only ONE Formula for Healthy Weight Loss!
A Common Sense Guide to Weight Loss will teach you how to Eat Healthy, Get Healthy and Stay Healthy for life!
There is only one way to lose weight and keep it off. There is only one formula that will lead to healthy and safe weight loss every time. Follow this formula and you will always lose weight and most of the time, you will be able to keep it off successfully for years. All you really need to know about weight loss is in this one simple equation. Are you ready to learn the only thing you'll ever need to know about weight loss?
The common sense diet isn't really a diet in the traditional sense. It's a lifestyle. It's choosing to make your health a priority. Instead of punishing your body for being overweight, you should be celebrating your body and feeding it so that your body gets strong and healthy.
Losing weight is tough. It's even tougher when you need to sort through fad diets, myths, and half truths about dieting. If you want a simple, no-nonsense diet that is practically guaranteed to work, you need to follow the common sense diet, which really isn't a diet at all, but a common sense approach to eating healthy and losing weight. Read on… for Healthy and Natural Weight Loss Tips!
Here's Just A Sample Of The Topics You'll Find Covered Inside this Ebook
"A Common Sense Guide to Weight Loss"
Weight Loss Tips
Why is it so hard to lose weight?
Common Dieting Pitfalls and How to Avoid Them
Metabolism and weight
Diabetes
Making a Weight Loss Commitment
Setting Realistic Weight Loss Goals
What is Your Ideal Weight
Emotional Hurdles to Weight
Good Carb / Low Carb /Low Fat Diets
Why Fad Diets Can Make You Fat
Common Weight Loss Myths
Low Calorie Foods to Keep on Hand
Eating Healthy on a Busy Schedule
Tips and Tricks to Stay Motivated when Dieting
More Weight Loss Tips: DID YOU KNOW. . .?
Untreated Type 2 diabetes can lead to heart disease, kidney disease, and even death. But did you know that you can actually prevent Type 2 diabetes by eating a proper diet and exercising? Learn more on page 10!
Did you know that obesity is the primary risk factor for developing diabetes? With more than 60 million people in the US alone considered obese, diabetes is just one of the serious health problems they face. Learn more about the risk factors of developing diabetes and see what you can do today to prevent the onset of this serious condition! (page 12)
We've heard all of our lives how important it is to drink water but do you really know the role water plays in your body and what drinking water can do in terms of your weight loss goals? Find out here! (page 23)
Get the truth about the Atkins diet and other popular diets. Get ready to be surprised! (page 24)
Far too much misinformation is floating around about weight loss. We've exposed 9 weight loss myths that you need to know now! (page 29)
Discover how easy it is to eat healthy even when you're on a tight schedule! We've included real life solutions to eating healthy when you're crunched for time!
Once you overhaul your kitchen and get rid of the unhealthy food, you'll want to replace it with healthy choices. We've made a list to help you get started!
A Common Sense Guide to Weight Loss separates fact from fiction when it comes to weight loss! You didn't gain the weight overnight and you won't lose it overnight. Instead, embark on a healthy lifestyle now and get fit for life!
Exterminate The Excuses!
Sit back and learn about health issues that you NEED to understand!
A Common Sense Guide to Weight Loss reveals…
Do you really have a slow metabolism? Find out exactly what metabolism really is and how it works! (page 8)
4 critical steps to setting realistic weight loss goals! (page 17)
Most people have used food as a reward at one time or another. Maybe you've gotten a promotion or reached another important milestone in your life. Instead of celebrating with food, check out other ways you can celebrate your accomplishments! (page 22)
For those who are intent on following a low carb diet: Why the South Beach Diet is more effective than the Atkins Diet! (page 24)
Savvy marketing techniques can often disguise fad diets and draw you in before you know you've been had. Here are 12 ways to recognize a fad diet! (page 28)
While exercising common sense is the only diet you'll really ever need, we have included some guidelines to help you to choose whether or not a particular diet may be right for you. (page 31)
In order to burn more calories than you take in, you're going to have to count calories, which isn't that hard today. But how many calories should you be taking in just to maintain your weight? Find out here! (page 37)
Who has time to exercise? You do! No matter how busy you are, these 6 tips can help you burn calories and add to the value of your overall health even when there is no time for exercise! (page 45)
Exercise doesn't have to be a chore. Get the whole family involved and spend some quality time together while you get healthy together. Check out these 11 fun and power packed activities for the whole family! (page 47)
The topics listed above should give you a good idea of what to expect from A Common Sense Guide to Weight Loss but don't think for a split-second that's all it offers.
This ebook is overflowing with awesome information and great tips!
You can start the common sense diet right now, with no special meals required!
You'll refer to A Common Sense Guide to Weight Loss over and over! Take it along with you to the gym or listen to it as you (finally) take some time for yourself!
It's time to take control!
The topics listed above should give you a good idea of what to expect from A Common Sense Guide to Weight Loss. But don't think for a split-second that's all it offers.
This ebook is overflowing with awesome information on Healthy and Natural Weight Loss Tips! !
FREE BONUS OFFER
LIMITED EDITION and LIMITED RELEASE
Timing IS Everything and Your Timing IS PERFECT!
For a limited time, all buyers of
A Common Sense Guide to Weight Loss will receive a special
ABSOLUTELY FREE GIFT BONUS!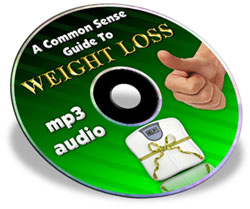 Audio Version of A Common Sense Guide to Weight Loss.
Listen to the Audio version anywhere you can listen to MP3's!
For example, while you are in your car, walking the dog or even when working in your Garden.
"Discover the A Common Sense Guide to Weight Loss PLUS the Audio version in Downloadable MP3 Format!"
---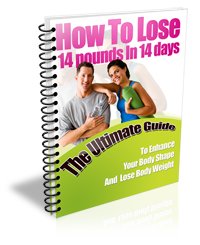 FREE Report Weight Loss: =>>
How to Lose 14 Pounds in 14 Days