Finally…An Online Dating Book That Will
Help You Discover The Secrets Of Successful Online Dating!
This Dating Advice Book Will Help You Clarify Your Online Dating Goals and Raise Awareness Of The Process Of The Internet Dating Scene To Get SAFE Results Fast.
Introducing: "Your Personal Guide to Online Dating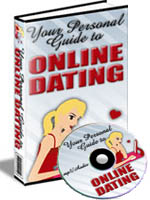 An online dating book, "Your Personal Guide to Online Dating" will walk you through each step of the online dating process!
We've covered profiles, photos, and have included a plethora of tips for communicating with someone you're interested in dating!
Your Personal Guide to Online Dating also includes a Special Section on Decoding Online Dating Lingo! If you're not familiar with NETSPEAK you will be after you read this!
Online dating might seem scary to someone who doesn't spend a lot of time online, but using online dating is a great way to meet new people. You can browse through online profiles to find others who share your interests and background, religious beliefs, or other things that are important to you.
Online dating is a wonderful way to meet new people who live in the same state, city, or town as you if you want a relationship with someone that is local or you can branch out and look around the world for that perfect partner.
To be successful with online dating, it helps to know a little bit about how the overall process works. In addition, there are a lot more online dating sites today than there used to be. How do you choose the right one? What should you include in your profile? Can you really trust someone you meet online?
Here's Just A Sample Of The Topics You'll Find Covered
Inside this Online Dating ebook "Your Personal Guide to Online Dating"
Common Myths About Online Dating
Tips for Picking an Online Dating Service
Creating a Great Online Profile
Decoding Online Dating Lingo
Protecting Your Personal Information
Tips to Really Sell Yourself in Your Profile
Red Flags
Tips for a Great First Phone Call
How Long Should you Wait for that First Date?
Staying Safe when you Meet for the First Time
Worst Places for a First Date
The Best Places for a First Date
How to Make a Good First Impression
After the Date
If You Both Want to Meet Again
Learning from Rejection
SAFETY FIRST…
You'll learn how to protect your personal information online. Just because you're putting yourself "out there" doesn't mean your personal information needs to be. (page 22)
Every dating situation, online or offline, has Red Flags that you should pay attention to. Here are a few to watch for when dating online. (page 29)
What if something just doesn't feel quite right? How to know if your online date is hiding something. (page 33)
No matter how well you "click," don't take unnecessary chance
You do need to take some precautions and be careful when you meet people that you have met through an online dating site but that is true for anyone that you are dating, regardless of how you met them.
Before you meet someone in person that you've met online, however, there's a lot to be done! You'll need to create a winning online profile and upload pictures of yourself. And that's just the beginning!
Soon you'll be browsing the profiles of other people who are looking for partners online. Do you have a clear picture of the kind of partner you're looking for?
Although online dating is a fun and exciting process, there's a lot of decisions you'll need to make along the way. Don't muddle through this process wondering what comes next! This step by step guide will give you the edge you need to be successful and find the partner you've been looking for without having to kiss a lot of frogs first!
Your Personal Guide to Online Dating reveals…
The absolute BEST thing you can do for heart health (page 16)
5 MYTHS about online dating cracked wide open! (page 8)
6 tips for choosing an online dating service! (page 12)
10 tips for creating an exciting online profile! (page 14)
Ready to start exchanging emails with someone you've "met" at an online dating site? Learn how to make a great first impression! (page 25)
Never flirted through email? Be sure and check out the section on email etiquette! (page 27)
6 tips for a great first phone call! (page 35)
The topics listed above should give you a good idea of what to expect from Your Personal Guide to Online Dating but don't think for a split-second that's all it offers.
This ebook is overflowing with awesome information and great tips!
With today's technology you can practically pick your life partner out of a catalog! We'll show you how to get started and guide you through the entire process!
You'll refer to Your Personal Guide to Online Dating over and over again! Take it with you in the car or listen while you're working out! (You can do this at no extra charge because we've got an exciting BONUS waiting for you!)
You'll refer to Your Personal Guide to Online Dating over and over! Take it along with you to the gym or listen to it as you (finally) take some time for yourself!
Are You Ready to find the love of your life?
FREE BONUS OFFER
LIMITED EDITION and LIMITED RELEASE
Timing IS Everything and Your Timing IS PERFECT!
For a limited time, all buyers of
Your Personal Guide to Online Dating will receive a special
ABSOLUTELY FREE GIFT BONUS!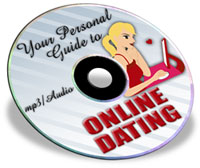 Audio Version of Your Personal Guide to Online Dating.
Listen to the Audio version anywhere you can listen to MP3's!
For example, while you are in your car, walking the dog or even when working in your Garden.
"Discover the Your Personal Guide to Online Dating PLUS Food Portions for Life Audio version in Downloadable MP3 Format!"
YES! I want to know everything I can about Your Personal Guide to Online Dating along with the extra special bonus gift of Your Personal Guide To
Online Dating Audio Version tooI understand I can claim my free gift Audio Program and eBook along with purchasing the step-by-step resource – Your Personal Guide to Online Dating if I act right now.