"Your Baby's First Year – What to Expect and How to Do Your Best!"
No parent is ever fully ready for their first baby and this e-book is designed to help you and your child through the first year!
Your Baby's First Year is a a Compete and Practical Guide To the First Twelve Months with Your New Addition to the Family.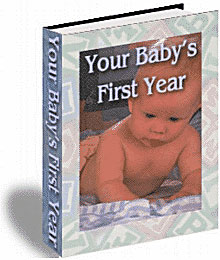 If you are like most expectant parents, you can't wait for your new bundle of joy to arrive. But how do you know what to do once your baby has arrived?
Relax! This comprehensive e-book, Your Baby's First Year, is here to guide you.
It is the perfect book to help you get started on the right foot and work comfortably through the first twelve months.
Packed full of information and advice for new or experienced parents, Your Baby's First Year is the instruction manual that Mother Nature should have included with your new baby.
Your Baby's First Year is a valuable resource that provides you with many ways to nurture the amazing new person in your life while maintaining your sanity.
This book is written especially to give you practical advice for you, your new addition and your home.
Here's What You'll Find Inside this E-book "Your Baby's First Year"
A Step by Step guide covering each month of your new baby's first year
What to do during those first days at home, including the "blues" a new mother might be feeling.
Getting your baby to sleep and whether or not it's important to insist your baby sleep through the night.
Using music to soothe your baby.
What to feed your baby at each stage of development.
How much your baby should weigh.
What to expect as your baby starts to roll over.
The types of noises that babies make.
What to expect as your baby masters those motor skills.
Having your baby socialize with other babies.
What to expect when your baby is teething.
All about vaccinations: the good, the bad, and the ugly.
What to do when your baby gets that first cold.
What games you can play with your baby to enhance his development.
Isn't it reassuring to learn that this instant download digital e-book includes just about everything you must-know about the first twelve months after your special child is born?
Your Baby's First Year will guide you every step of the way, month by month and teach you about what to expect in the coming months. With this knowledge, you can plan out your fist year together and be READY for the challenges and changes as they occur.
FREE BONUS OFFER #1
LIMITED EDITION and LIMITED RELEASE
Timing IS Everything and Your Timing IS PERFECT!
Hey, we've released a beautiful new digital e-book called "101 Headache Prevention Tips " and it sells on this site too, under the 'Wellness' category for $17.
This Complete and Practical Guide To Preventing and Curing Painful Headaches once and for all, can make the pain STOP just by following some basic but little known principles.
We would love to give you this limited opportunity to receive the digital e-book "101 Headache Prevention Tips " for FREE – it's our gift to you.
"Discover the Secrets of 101 Headache Prevention Tips PLUS
Discover YOUR BABY'S 1st YEAR too!"
If you want to learn how to successfully mange this important first year in your child's life, then this is the e-book for YOU!
Don't you feel you and your family deserve the best start possible during this "BIG CHANGE?" The first step to making sure this happens is to Instantly Download this e-book now for ONLY $17.00.
Like all other expectant parents you will have spent the last few months preparing for the big day.
You will have a baby room full of everything a newborn could possibly want. You will have read book after book on a wide magnitude of baby topics from what to name your baby to when you can expect those first words. You will have walked and paced the length of baby's room, imagining your little bundle sleeping peacefully in her crib.
Now the moment has arrived!!
In the crib lies your sleeping baby and the most exciting adventure of life is about to begin! Make sure you are ready and have the knowledge to move through what comes next!
YES! I want to know everything I can about YOUR BABY'S 1st YEAR along with the extra special bonus gift of 101 Head Ache Prevention Tips too
I understand I can claim my free gift eBook and eBook along with purchasing the step-by-step resource – YOUR BABY'S 1st YEAR if I act right now