"How Would You Like To Save A Ton Of Money and Increase the
Value Of Your Home By As Much As Thirty Percent!"
How Simple Landscaping Tips CAN Make All the Difference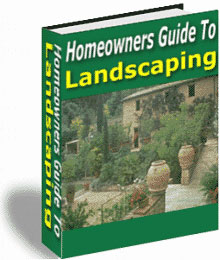 Introducing the Homeowners Guide To Landscaping – How To Landscape Like A Professional
If your homes landscape is designed properly it will be a source of enjoyment for your entire family, it will enhance your community and add to the resale value of your property. Landscape design involves much more than placing trees, shrubs and other plants on the property. It is an art which deals with conscious arrangement or organization of outdoor space for human satisfaction and enjoyment. In Homeowners Guide To Landscaping you will learn how to:
Organize and developing your yard for maximum use and pleasure.
Create a visual relationship between the house and the site and
Reduce landscape maintenance to a practical level.
Americans spend tremendous amounts of money landscaping their homes. Much of this money is wasted, however, because of little or no planning. Homeowners Guide To Landscaping will guide you every step of the way, from creating a base plan to choosing plants and trees and landscaping for energy savings.
Here's What You'll Find Inside this Ebook "Homeowners Guide To Landscaping"
Planning The Home Landscape
The Base Plan
Planning For Your Needs
Studying The Site
Landscaping Materials
Placing Your Plants
Choosing And Planting Your Plants
Landscape Construction
Terracing
Backyard Ponds
Landscaping For Energy Savings
You can discover the joy and beauty of having a wonderfully landscaped yard with the help of Homeowners Guide To Landscaping. Order now and get started creating a landscape you will enjoy for years to come.
FREE BONUS OFFER #1
LIMITED EDITION and LIMITED RELEASE
Hey, we've released a beautiful new digital ebook called "101 Tips For Growing And Enjoying Your Own Great Roses" and it sells on this site too, under the 'Home and Garden' category for $27.
Roses are arguably the most beloved flowers in the world. They symbolize love, friendship, and sympathy with an elegant beauty. If you are an admirer of roses, you can become the envy of friends, family, and neighbors with some expert gardening advice.
We would love to give you this limited opportunity to receive the digital ebook "101 Tips for Growing and Enjoying Your Own Great Roses" for FREE – it's our gift to you.
"Discover the Secrets of Growing Your Own Home Garden PLUS Discover Homeowners Guide To Landscaping too!"
YES! I want to know everything I can about Homeowners Guide To Landscaping along with the extra special bonus gift of 101 Tips For Gorgeous Roses too!"
I understand I can claim my free gift eBook and eBook along with purchasing the step-by-step resource – Homeowners Guide To Landscaping if I act right now.