Looking to To Learn More About An Exciting and Profitable Hobby?
Discover All the Information You Need to Embark Upon a Hobby That Offers Very  Real Personal and Financial Rewards!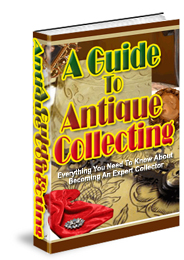 Introducing the ebook "A Guide To Antique Collecting" which is The Definitive Guide for Antique Enthusiasts!
A Guide To Antique Collecting is the perfect eBook to teach how to become knowledgeable and start you on a new hobby in the wonderful world of antique collecting.
If you have always wanted to know how to collect antiques, without wasting time or money, then you will find the best tips and expert advice for achieving this inside of this ebook!
After you have read and applied the advice in this ebook, you will know exactly what to look for in the world of antique collecting!
We all search for and hope to find something enjoyable to do with our idle and leisure time. Too often we find ourselves aimlessly channel surfing from the couch or wasting our energies on other, equally useless pursuits. Although our work lives may keep us busy, we still feel a need to have something else in our lives–some fun, ongoing pursuit that will bring an added dimension of enjoyment and entertainment to us.
At first glance, the idea might be intimidating. Too expensive. Too much knowledge required. A lack of interest in old furniture. All of those objections, however, melt away when one looks at antique collecting from a more accurate perspective.
You can turn any of your interests into the subject of an enjoyable antique collection.
You can learn the basics of collecting antiques simply and easily.
You can create your own awesome collection and be on your way to discovering a real sense of accomplishment and satisfaction.
Plus, antiques are profitable. Informed buyers can amass collections that they later sell, in piece or in whole, at prices far greater than what they paid.
It's time you considered becoming an antique collector!
This book is written especially for those people that love hobbies but aren't good with their hands but love to learn new information that can then be applied and turned into a profitable venture!
Here's What You'll Find Inside this Ebook "A Guide To Antique Collecting"
Introduction
Why Collect Antiques?
Choosing the Right Type of Antique for You
Tips for New Antique Buyers
Condition: The keyword for Antiquing
Testing Authenticity with a Black Light
Learning More About Antique Collecting
Antique Furniture
The Attraction of Antique Furniture
Preserving Antique Furniture
The Thomas Chippendale Legacy
Identifying Biedermeier Furniture Style
Understanding the difference in Antique Woods
Collecting Antique Glass
Depression Glass
Tiffany Lamps
Collecting Antique Jewelry
Mourning Jewelry: A Unique Antique Purchase
Collecting Antique Pearls
Understanding the Art Nouveau and Edwardian Jewelry Movements
Collections In Writing
Advantages of a Written Antique Collection
Tips for Starting and Preserving an Antique Book Collection
Collecting Sheet Music
Other Unique Antique Collection Niches
Collecting Tin Toys
Scrimshaw Antiques
A Brief History of Clock Making
In addition to valuable how-to information about antiques, you will also receive exclusive information about some of the most popular and interesting segments of the antique markets.
The topics listed above should give you a good idea of what to expect from A Guide To Antique Collecting but don't think for a split-second that's all it offers. This ebook is overflowing with awesome information and great tips!
This is not a little ten-page report filled with a simple list of generic antique items anyone could find on eBay. This is REAL information.
A Guide to Antique Collecting takes a look at topics including:
Depression glass–a perennial favorite among collectors
Tin toys–a fun and valuable way to look at history
Hand-made quilts–artisan products in high demand
Tiffany lamps–the gilded age classics everyone adores
Isn't it reassuring to learn that this instant download digital ebook includes everything you must-know, everything you must-have and a step-by-step guide to putting it all together quickly and cheaply?
A Guide To Antique Collecting will guide you every step of the way with detailed instructions for understanding the language of an antique collector, different time periods, what to look for, identification methods, how to determine real value and more.
Can you see the value of knowing how to become proficient at the art of antique collecting and how that could become a passionate and rewarding hobby that you will enjoy for many years?
If you want to learn the art of Antique Collecting , then this instant download digital ebook is a must have for your library. Don't let yourself go one more day without knowing how to become a knowledgeable, successful antique collector and benefiting from and enjoying your newly found profitable and personally rewarding hobby.
Don't you feel you deserve to spend your spare time doing something you love, that's personally rewarding and very profitable?
How important is it for you to be able to know what you're talking about when you express the love of your hobby to others?
Are you looking forward to pursuing a FUN, REWARDING HOBBY that will continue to provide you with pleasure, month after month, year after year?