Dads: Finally a Guide Made For You!
"Dad's All-Purpose Guide to Parenting!"
A Complete, Practical Guide To Approaching Parenting For Fathers.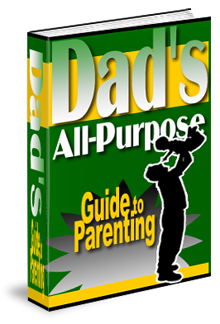 Life doesn't come with an instruction manual!
When you have children, life only becomes more complex. Are you ready to handle the problems that arise? Have you ever potty-trained a child, or been shown how to teach one to be responsible?
It's hard – I know – but now you have the tools you need to give your child a head-start in life.
This is not a little ten-page report filled with a anecdotes you've heard about before.
This is an amazing ebook detailing the nuances of fatherhood. Included in this ebook are proven strategies to help you be a great father and help your child achieve his or her potential. There's no reason to continue through (or start out!) fatherhood blindly.
Dad's All-Purpose Guide to Parenting gives you the tools to make your child successful and happy.
Let's be honest; it's not easy being a parent. Teaching your child to be to be respectful, disciplined, and obedient is difficult. From the time they're small children until they're teenagers (and beyond) we need to instill in them these three core values – as well as a variety of other lessons. School just isn't enough.
Parenting small children is tough. From the time they're newborns until you send them to daycare, they only look to you for guidance and support – but do you know all you need in order it to teach them?
When they get in preschool is the time you need to teach them about life – how to be respectful, creative people who understand their impact on other people – do you know how to give them that understanding?
Things become even more difficult when your children reach elementary school. Even coupled with Sunday school, they will not receive all the guidance they need to be successful. Your role is so valuable here – but how do you know where the schools left off?
And then, when you child becomes a teenager, your job becomes more difficult. How do you handle the angst that comes with the teen years? How do you show them how to hold themselves without pushing them away?
Ask yourself a few quick questions:
Do you think you're 100% prepared to teach your children what they need?
Is your child already 'head of the class'?
With the knowledge they have, are you certain that they have the skills and knowledge to become real-world success stories as adults?
You probably answered "no" to a few of those. That's why we want to introduce you to Dad's All-Purpose Guide to Parenting.
Here's What You'll Find Inside this Ebook Dad's All-Purpose Guide to Parenting
Proven Parenting Styles that Get Results
Teaching your Child Respect the Easy Way
A Quick Guide to Teenage Communication
Keeping Patience in Chaos: Dealing With Tantrums
Setting Boundaries and Keeping Them
Scheduling Family and Meal Times
How to Help Your Child Through Divorce
How to Succeed as a Step-Parent
The topics listed above should give you a good idea of what to expect from "Dad's All-Purpose Guide to Parenting."
But don't think for a split-second that's all it offers!
This ebook is overflowing with awesome information and great tips!
You'll learn proven techniques from other fathers so you can ensure your child lives to their potential. It is a comprehensive look at the areas you need to teach your child: respect, discipline, and obedience. Dad's All-Purpose Guide to Parenting gives you info that can make a world of difference in all three areas.
Dad's All-Purpose Guide to Parenting provides you with everything you need teach your child respect, discipline, and obedience at any age.
It starts with the core basics of taking care of newborns and toddlers – how to talk and how to teach them as they're growing so quickly. We even cover how to look for and hire a new babysitter, so you can ensure you find the right childcare for your bundle of joy.
We then move to preschool, where you teach your children how to behave properly and what to do around 'strangers' – all the while fostering creativity and dealing with the separation anxiety that accompanies their first days in school. We'll even cover how to speak with your child about the 'birds and bees' – you never know when they're going to ask this question!
Elementary school is where we cover the five lessons you need to teach your child. We even cover how to get your child to love to read and treat others with respect, as well as how to deal with death and other tragedies.
The teenage years are the hardest time to make your mark with your child. We'll help show you how to connect with you teenager while dealing with the angst and attitudes. We'll also show you why your child wants you to set limits for them – even if they don't know it now.
Why not give yourself all of this knowledge and give your child the gift of the future by using: Dad's All-Purpose Guide to Parenting.
You know you're ready to give your child the tools to reach their potential. It's time to teach yourself how to teach them respect, discipline and obedience by instantly purchasing: Dad's All-Purpose Guide to Parenting for only $17.00!!
Are you Looking Forward to Having a Real Impact in the Future Success and Happiness of Your Children?