"It Just Wouldn't Be A Holiday Without A Delicious Homemade Pumpkin Pie!"
Enjoy The Flavour Of The Holidays With A Delicious Homemade Pumpkin Pie,
Cake, Dessert, Or Even A Lucious Pumpkin Cheesecake!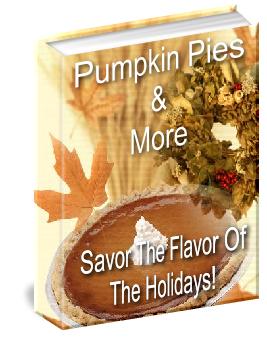 Enjoy Pumpkin Pies And More" for a Savor Flavor of the Holidays
If There's One Dessert That Is A "Must Have" At Any Holiday Meal It's Pumpkin Pie! The Rich Flavor Of The Sweet Pumpkin And That Special Blend Of Spices Just Fill Your Mind With Thoughts Of The Holidays.
This Year End Your Holiday Meals With A Mouth watering Delicious Pumpkin Pie, Cake, Or Dessert That Will Have Your Guests Begging For More!
If you have always wanted to know how to make delicious Pumpkin Pies without having to spend half the day in your kitchen, then you will find the best detailed recipes to do this inside of this ebook!
After you have read, followed and used the recipes in this ebook, you will know exactly what to prepare this Christmas when you are wondering what you are going to put on the table for everyone to enjoy! "Pumpkin Pies And More" will make you feel like a chef this Christmas!
Here's Just A Sample Of The Mouth Watering Recipes You'll Find Inside this Ebook "Pumpkin Pies And More"
Pumpkin Pie
Pumpkin Pie Bars
Pumpkin Pie Cake
Pumpkin Cheesecake Pie With Gingersnap Cookie Crust
Traditional Pumpkin Pie
Paradise Pumpkin Pie
Maple Golden Pumpkin Pie
Pumpkin Chiffon Pie
Thanksgiving Pumpkin Pie
Pecan Pumpkin Party Pie
Pumpkin Crunch Cream Pie
Best Ever Pumpkin Pie
Pumpkin Pie Cookies
Double Layer Pumpkin Pie
Apple & Pumpkin Pie
Honey Pumpkin Pie
Pumpkin Gingersnap Pie
Praline Pumpkin Pie
Spicy Pumpkin Pie Squares
Pumpkin Pie Cheesecake
Frost On The Pumpkin Pie
Pumpkin Pie Upside Down Cake
Pumpkin Pie Delight
Apple Butter Pumpkin Pie
Pumpkin Pie With Spiced Crust
The recipe titles listed above should give you a good idea of what to expect from Pumpkin Pies And More but don't think for a split-second you'll run out of great ideas of what to create, as this ebook is chock full of the very best simple and exotic pumpkin recipes you'll ever need keep all the family wanting more!
FREE BONUS OFFER #1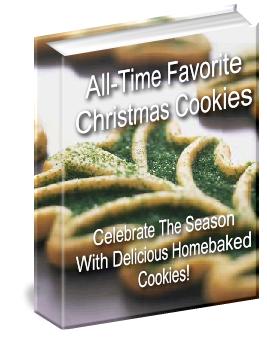 "All Time Favourite Christmas Cookies" and it sells on this site too, under the 'Christmas Celebrations' category for $9.
Treat Your Family To Some New "All-Time Favorite Cookies" This Holiday Season!
Just Imagine The Delight On Your Families Faces When You Serve Them A Big Plate Of These Delicious Homemade Christmas Cookies…
We would love to give you this limited opportunity to receive the digital ebook "All Time Favourite Christmas Cookies" for FREE – it's our gift to you.
"Discover the Secrets of All Time Favourite Christmas Cookies PLUS Discover the Pumpkin Pies And More too!"
Are you looking forward to making your own DELICIOUS PUMPKIN PIES that you will be able to make for you, your family and friends month after month, year after year?
YES! I want to know everything I can about Pumpkin Pies And More along with the extra special bonus gift of All Time Favorite Christmas Cookies too
I understand I can claim my free gift eBook and eBook along with purchasing the step-by-step resource – Pumpkin Pies And More if I act right now.