Looking for Christmas cookies recipes and Sweet Treats for Christmas With Delicious Homemade Cookies?
Christmas cookies recipes for Kids And Adults All Love Homemade Cookies, Especially During The Holidays!
Christmas cookies recipes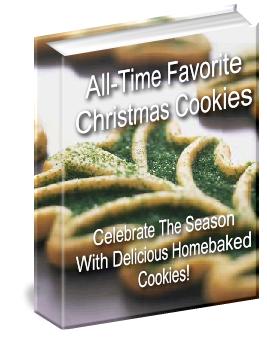 There's nothing like the smell of freshly baked cookies to get you in the mood for the holidays.
Something about the way the scent fills your home just seems to bring back fond memories of Christmas, family and the joy of the holiday season.
If you have always wanted to know how to make delicious and healthy Christmas Cookies without having to spend half the day in your kitchen, then you will find amazing unique and detailed Christmas cookies recipes inside of this ebook!
"All Time Favourite Christmas Cookies" will let you bake a large range of Christmas cookies recipes that you can enjoy with your family this Christmas!
Here is a free sample "Christmas-cookie-recipes.pdf"
Here's Just A Sample Of The Mouth Watering Recipes You'll Find Inside this Ebook "All Time Favourite Christmas Cookies"
New England Christmas Cookies
Christmas Cookie Slices
Christmas Cookie Wreaths
Butter Cookie Christmas Cutouts
Peanut Butter Bars
Old Fashioned Butterscotch Cookies
Christmas Surprise Cookies
Fruited Shortbread Cookies
Outrageous Chocolate Chip Cookies
Date Pinwheels
Filled Christmas Cookies
Lemon Snow Bars
Cinnamon Christmas Logs
Almond Christmas Balls
Christmas Crescent Cookies
Chocolate Covered Cherry Cookies
Old-Fashioned Walnut Balls
Almond Double Chip Cookies
Almond Shortbread Cookies
Amish Sugar Cookies
Butterscotch Cookies
Rolled Butterscotch Cookies
Christmas Butter Cookies
Christmas Fruitcake Cookies
Christmas Ginger Cookies
Maple Sugar Cookies
Orange Slice Cookies
Danish Brown Spice Cookies
Mocha Walnut Christmas Cookies
Swedish Christmas Cookies
Christmas Nuggets
Christmas Jewels
FREE BONUS OFFER LIMITED EDITION and LIMITED RELEASE
Timing IS Everything and Your Timing IS PERFECT!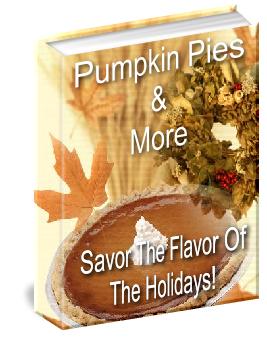 Hey, we've released a beautiful new digital ebook called "Pumpkin Pies And More" and it sells on this site too, under the 'Christmas' category for $9.95.
If There's One Dessert That Is A "Must Have" At Any Holiday Meal It's Pumpkin Pie! The Rich Flavor Of The Sweet Pumpkin And That Special Blend Of Spices Just Fill Your Mind With Thoughts Of The Holidays.
We would love to give you this limited opportunity to receive the digital ebook "Pumpkin Pies And More" for FREE – it's our gift to you.
"Discover the Secrets of All Time Favorite Christmas Cookies PLUS Discover Pumpkin Pies And More too!"
Are you looking forward to making your own DELICIOUS CHRISTMAS COOKIES that you can  make for your family and friends, year after year?
YES! I want to know everything I can about All Time Favorite Christmas Cookies along with the extra special bonus gift of Pumpkin Pies And More too
I understand I can claim my free gift eBook and eBook along with purchasing the step-by-step resource – All Time Favorite Christmas Cookies if I act right now.