You CAN Create An Absolutely Gorgeous Landscape That Works With Nature, Instead Of Against It!
Introducing an ebook all About Landscaping for Wildlife – A Complete and Practical Guide To Creating A Environmentally Friendly Garden For Wildlife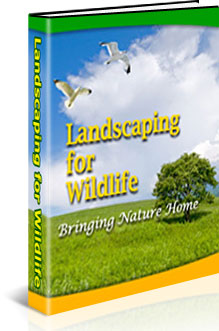 Do You Want A Stunning Wildlife-Friendly Property That Will Attract Natural Beauty And Stand Out In A Crowd? All About Landscaping For Wildlife Will Give You Everything You Need To Create The Perfect Environmently Friendly Property!!!
Most of us are sick and tired of cookie cutter properties. Short-cut green lawns. A few shrubs. Maybe a tree here and there. It's a tired, old look that doesn't do anything more than blend in with the overwhelmingly dull crowd.
Not only does the standard landscaping plan bore us to tears, it also costs a fortune to maintain. Fertilizing, watering, mowing. It makes you tired just thinking about it. And, it should make you feel a little bit guilty, too.
The "green, green grass of home" does a disservice to wildlife. Animals can't find shelter, they don't find nourishment and they become victims of our urban and suburban sprawl.
Wouldn't it be spectacular if you could design your landscape in a way that attracted and assisted wildlife? What if you could cut costs at the same time? What if you could also break out of the mold and have a property that was truly beautiful.
You can.
In fact, you can do all of those things no matter where you live. You can even create a wildlife-friendly landscape design if you live in the heart of an urban center.
You don't have to be boring. You don't have to overspend. You don't have to contribute to the growing ecological disaster.
If you're reading this letter, you obviously have an interest in making the right kinds of landscaping decisions. You want more than just another boring lawn.
I'm here to tell you that it IS possible to do better.
All About Landscaping for Wildlife is a brand new, comprehensive look at creating animal-friendly, attractive landscapes. It covers everything from handling large spaces to creating beautiful porch-sized havens. This extensive evaluation of animal-friendly landscaping was written to provide you with all the information necessary to do something special.
Here's What You'll Find Inside this Instant Download Digital Ebook
All About Landscaping for Wildlife
Following nature's lead
Avoiding unnecessary disturbance
Shelter: its importance and how to provide it
All about bird baths, bird houses and other ways to attract our feathered friends
How to handle the "grass question"
Which plants you should use to get perfect results
Caring for a wildlife-friendly landscape
The landscaping design process
All About Landscaping for Wildlife isn't a thinly disguised advertisement for one particular landscaping product or technique. It isn't the equivalent of a thin pamphlet containing a few common facts.
All About Landscaping for Wildlife is a robust, content-rich look at creating landscapes that will improve the quality of your life, the value of your property and the lives of surrounding wildlife.
Imagine what might happen if you knew how to create a truly unique, valuable and beautiful property…
A more attractive property.
Less environmental damage.
Decreased maintenance cost and effort.
Increased property values.
An opportunity to interact with nature.
A chance to express your own creativity.
Many people don't even realize the difference a change to their landscaping approach can make to their property and their lives. Finding a way to create a better, more attractive landscape can change the way people feel about nature and themselves.
You CAN do it differently. You CAN do it better.
All About Landscaping for Wildlife is there to help you toward that wonderful goal.
This information-rich roadmap to the world of stunning, valuable and resource-rich properties is only $17.00.