Looking forward to Camp Cooking and Holidays this season?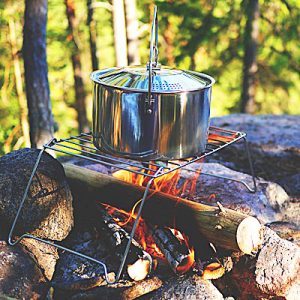 It's almost time again to pack everything but the kitchen sink and head down to the coast or the country side by the river to camp for the holiday season. Many families often pack everything including a kitchen sink to live away from home while they rent out their house.
Whatever the situation, Camping Cooking can be pleasurable event for all if organised and setup even with just a few pots and pans but with a list what can you cook.
Having a great list of Delicious Recipes specifically for Outdoor Meals can make a huge difference between just eating rough and ready or sharing great meals as the evening sets in by the camp fire with friends after a great day at play.
Camping cooking the easy way with 101 Camping & Outdoor Recipes may just be the info you need to take on a planned holiday by the beach. A few ideas include Australian Grilled Fish, Camp Potatoes
Campfire Fried Rice, Campers Pizza Pie, Camp Stew, Camper's Buckwheat Pancakes, 20 Minute Hamburger Skillet Stew, Sizzlin' Beef Kabobs.
Baked Stuffed Fish
White fish, enough for -4-6
2 c  Soft bread cubes, about 1/2″ cubes
1 Small onion, chopped fine
1 Green pepper, blanched and, chopped
8 oz Imitation crab meat
1/4 c  Lemon juice
1/2 c  mayo
Salt & pepper to Taste
Mix all these ingredients together and roll up in fish fillets, securing them with toothpicks.
Divide it among four or five good-sized pieces. Bake at 400 for 30 minutes. During last 10 minutes.
Pour sauce over the fish. It's good with flounder, but any white fish will do such as large cod and catfish fillets and butterflied them. Just enough so you can roll it up over the stuffing.
For more Camp Cooking Recipes check out 101 Camping and Outdoor Recipes at: www.advanceddigitalebooks.com/cooking/camping/