"Who Else Wants To Promote Your Business Offers Online Using Videos?
If you have videos that you want to use online for your business, but you don't know where to start. Then here's a simple and easy way to get started to upload your videos to your website without knowing anything about file formats or web code!
Here's a simple video conversion software program that will allow you to convert your own videos from common formats into a format that can be uploaded to your website.
You Could Have Streaming Videos On Your Website Within Minutes.
Imagine YOU Could Be promoting Your Business On Youtube in Just 10 Minutes From Now!
See below, there is also an extra tool offered here too, a "Cam Studio" a Screen Capture Video Software Program Which Is So Simple To Use That Will Allow You To Create Screen Capture Videos with Sound within minutes that you can then upload to Youtube and websites.
Video Web Wizard is a Fast, Affordable Way to Take Advantage of the Online Website Video Marketing. Discover How Easy It Really Is To Learn how to upload videos to website using this simple software.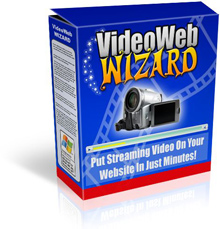 Video Web Wizard is a new video conversion software tool that allows you to easily and quickly convert your videos into a web format ready format for uploading or adding to a product sales page.
Even if you are completely new to computers or just are not good with technology, you don't need to worry!
The Video Web Wizard video software has a wizard-like functionality which guides you step by step. It literally walks you through the few steps to converting video to website format.
If you have always wanted to use the power of video on your website but were never able to grasp the technology, then this software is for you! This easy to follow guide will have you uploading videos to Youtube or your blog and web pages in no time!
Did you know a new kind of mulitmedia internet is now here to stay? A "video media" internet.
Ten years ago, video was not common on the internet. But today, video is becoming a standard for websites. As you may already know, Google recently bought YouTube, the online video sharing site, worth $1.65 billion in stock!.
What does this mean for YOU and your business?
You must ask yourself if you are going to keep up with the new video media standards online. Because if you do, you are going to make EASY PROFITS by getting your message across quicker with mulitmedia. As you may alreay know, your customers are already expecting to view your product online in video mode right now. They've been exposed to the idea already through sites like YouTube and other video sharing sites. As the internet speed can now allow video to play effortlessly, all you have to do now is start using online video in your promotion message.
It will attract your visitors' attention and interest them to take more notice of your offer. In other words: Get their interest buy from your offer as they see it now.
But on the flip side, if you don't start using video soon and start catching up with the new online media standards, you will be going to simply leave potential opportunities and profits go by without realising it until it's too late. Maybe long-term profits, too as you may miss the boat for getting an edge over your competition by not seizing this technology now. Maybe you've thought about using online video for your websites, but just haven't got started yet.
The Good News is that this Software can help you get started within minutes, that is providing that you have existing video to use that you may have created using your handheld digital camera.
Here's 3 Main Reasons People Are Not Taking Advantage of Online Video Marketing To Boost Their Sales Message.
Reason #1: "I just haven't gotten around to it yet."
Bad excuse! If you own a business of any kind, you need to be alert about trends and changes in your industry and be ready to act upon those changes to build your business. If you don't, your business could be left in the dust. Especially with online businesses and websites. Things move much faster on the internet than they do in the "normal" business world. The internet has changed so much in the past 15 years… it's unbelievable! You must be alert to keep up with it – don't put things off.
Reason #2: "Making video for my website is too hard, expensive, and time-consuming."
Not true! Nowadays, you can get a decent digital camcorder for less than $199. And if you have Microsoft Windows XP or higher, your computer is all ready to go with free video editing software called "Windows Movie Maker." But what if you don't have the budget for a digital camcorder? (Even though it's a great investment) You can still use video to your advantage on your website! For example, you can just get a $20 webcam and start using it to record short messages for your website or newsletter. This will build trust with your website visitors or newsletter subscribers. In fact, a lot of online marketers use this technique simply because it works (it seems personal), it's cheap, it's easy, and it's fast!
Reason #3: "It's too technical for me to put video on my website."
Not anymore. This may have been true in the past, but with new solutions like the one I'm about to share with you, you'll never be able to use this excuse again!
Here Are Just A Few Of The Things You Can Put On Your Website With Video Web Wizard…
Video ads or infomercials
Company presentations or talks
Funny, strange, helpful, or "cool" videos that go viral & create an avalanche of traffic for your site
Webcam messages to website visitors or newsletter subscribers
Training videos for your subscribers, friends, affiliates
Videos for organizations, community groups, etc…
Promotional videos for band websites
Family videos on your personal website
Isn't it great to learn that this instant download includes everything you must-know, everything you must-have with a step-by-step guide to putting Videos together quickly and cheaply?
"How Does Video Web Wizard Work?"
First off, VideoWebWizard converts all the popular video formats and a few, even, that most comparable software programs don't support. VideoWebWizard supports AVI, WMV, MOV, MPG, FLV, VOB, ASF, and MP4 video formats. Such as mp4 converter to flv, wmv converter to flv, convert video to flv, and 3gp converter to flv.
(Don't understand all that computer-speak? That's fine, you don't have to. All it means is that you won't find yourself frustrated with VideoWebWizard because it's not able to convert a certain video format!)
VideoWebWizard converts these video files into a file format called "FLV," or "Flash Video." It's a technology that works with almost all computers and web browsers, even computers running on a non-Microsoft operating system like Macintosh or Linux.
By the way, when you see a video on a website, 99% of the time it is probably in Flash video format. Why? Because Flash works almost everywhere, like we just mentioned, and Flash videos usually have a small file size (so they load quickly) while keeping good quality. Many times you can compress a file to 10% or less of its original file size!
Then, after VideoWebWizard automatically converts your video into Flash format, it generates a small web page with your video on it, complete with a player and controls (play, pause, volume, and so on). Upload this page to your website, and you're done!
Are You Thinking: "I'm Bad With Computers, Would I Really Be Able To Use VideoWebWizard?"
The answer is a resounding "YES." You'll master VideoWebWizard in no time at all! VideoWebWizard was created with people like you in mind. After all… if you're like us, you would rather spend your time working on your business or website than spending hours trying to figure out complicated procedures or confusing software.
Here, we'll show you how easy it really is…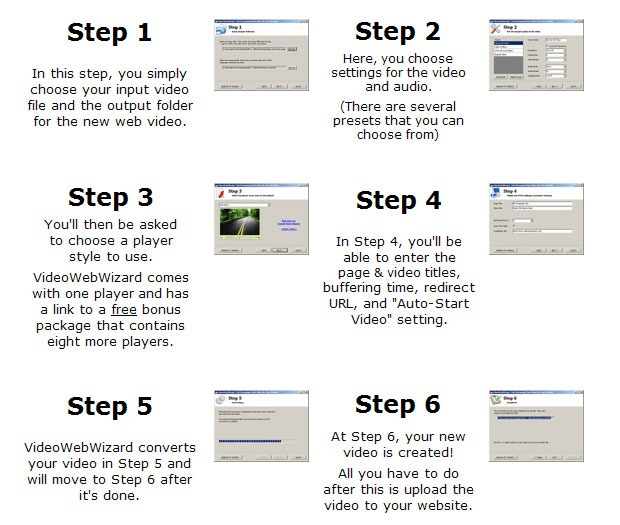 There Are Different Player Styles For Your Different Videos
VideoWebWizard comes pre-loaded with one website video player called "Charcoal."
However, I know that you would probably like more style choices for your website players. So there is a FREE bonus package of eight (8) additional website video players for you, so that there are nine (9) players in total to choose from!
Here are some screenshots of all the players. To see a demo of a player, simply click on it. (Make sure your popup blocker doesn't block the preview popup window)
But By Now You're Probably Worrying About The Price…
What's a fair price for a cutting-edge technology like VideoWebWizard? Well, comparable software is selling for $100, $150, $150+ … we could be charging that much. But we're not going to.
If you act NOW, I am willing to give you instant access to this incredibly powerful internet marketing/webmaster tool for considerably less than that! $67.
You read that right! Just $67. Let me tell you… that's nothing compared to the programming costs to make this software. This is a STEAL here!
BONUS: Screen Capture Video Software
FREE BONUS OFFER LIMITED EDITION and LIMITED RELEASE
Timing IS Everything and Your Timing IS PERFECT!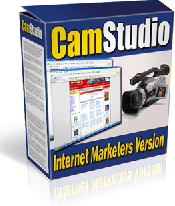 Hey, we've released a new piece of software called "Cam Studio" and it is yours absolutely free when you purchase "Video Web Wizard"
Cam Studio lets you to make a video of your computer screen with you talking as the audio. Many successful internet marketers use Cam Studio extensively – for example, to demonstrate a service or product that they are marketing.
We would love to give you this limited opportunity to receive the software package Cam Studio for FREE – it's our gift to you.
Discover the Video Web Wizard PLUS Cam Studio too!
Don't underestimate the power of video. It can bring your website and your business to whole new level.
VideoWebWizard is the tool that unlocks the power of video by allowing you to put videos on your website.
Don't be fooled by the low price. This small investment can bring wild return on investment. It can bring hundreds or thousands of dollars in additional profit compared to if you had not used video on your website!
Why are you still reading?! Don't waste time thinking about whether you want to use VideoWebWizard to transform your website. Get started now!