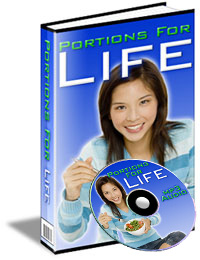 The ebook "Portions for Life" will help you identify personal habits that sabotage your ability to lose and maintain a comfortable weight.
Why not reboot your lifestyle and learn a process to help you establish life-long habits for living a healthy lifestyle that will both help you loose weight and regain your best energy levels?
Learn the best foods that you enjoy eating that will actually help you lose and maintain your weight.
Download the FREE Sample mini version ebook to learn
Dieting History and Myths – are Fad Diets and 'One Hit Wonders'?
What's the go with Carbohydrates and Protein: Good or Bad?
Learn to gain a focus on really losing weight
What does your body ready need?