Discover 45 Fantastic Ways to Burn Calories
If you're looking for ways to ramp up your metabolism to get slim, here are some amazing tips for Calorie-burning secrets that will you get fitter and happier!
Inside this free book you'll discover…
Did you know that there are some very specific foods that you may already have that can help you reduce weight and boost metabolism?
Did you realise that there are some specific food that you MUST STOP eating right now if you are going to give yourself a chance to loose weight?
Discover the best and most effective exercises for burning calories now and imagine burning calories when your not exercising!
How to burn more calories with no extra effort
Get the inside secrets to what are the best dietary supplements to help you in your quest of calorie burning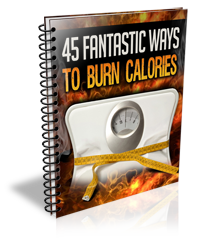 Download your free report 45 Fantastic (And Surprising!) Ways to Burn Calories.